The National Science Centre, together with the ERC National Contact Point at the National Centre for Research and Development (NCBiR), has the pleasure to invite you to an information day devoted to the ERC Mentoring Initiative. The meeting will be held on 26 September at 10 am in the form of a ClickMeeting webinar.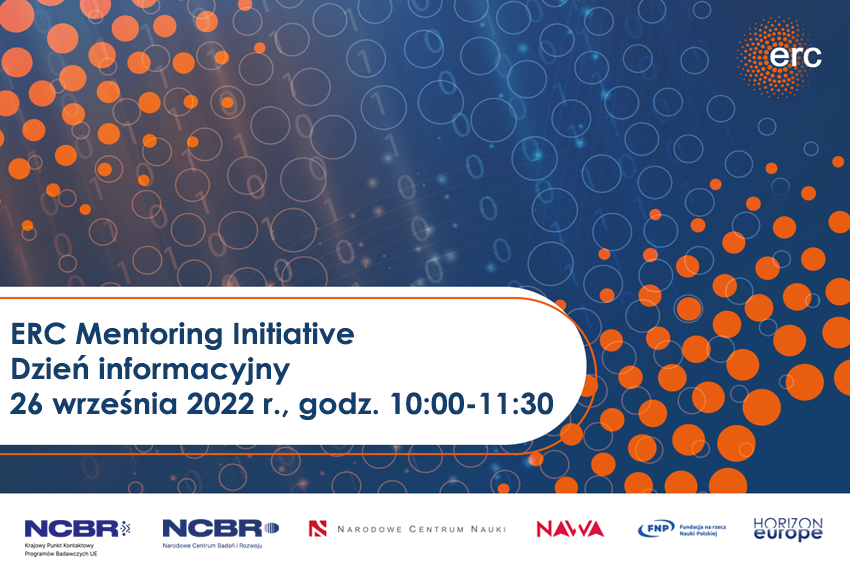 The ERC Mentoring Initiative is a program created by the European Research Council to support researchers who want to apply for ERC grants. During the webinar, we will introduce you to the main premises of the initiative and its support mechanism. You will learn who can take part in the initiative and what are its terms and conditions. Representatives from the NCBiR, the National Science Centre (NCN), the Foundation for Polish Science (FNP), and the National Agency for Academic Exchange (NAWA) will also present their own programs and activities designed to support researchers in applying for ERC grants. A Q&A session at the end of the webinar will allow you to clear up any doubts you may still have.
Together with the NCBR, the NAWA, and the FNP, the NCN joined the initiative in May this year. The four agencies made it possible for their grant winners to cover the costs of participation in the ERC Mentoring Initiative from their domestic project resources. The program is targeted at researchers working in countries with a lower ERC success rate, such as Poland. For this purpose, the ERC has set up a database of mentors who have previously sat on ERC review panels and former ERC grant winners, offering their support in the application process.
Join the webinar! You can sign up here.