Principal Investigator :
Dr hab. Magdalena Winiarska
Medical University of Warsaw
Panel: NZ6
Funding scheme : OPUS 4
announced on 15 September 2012
I first took an interest in anti-CD20 monoclonal antibodies and their effects during my PhD programme. Immunotherapy with the use of such antibodies has been widely employed in the treatment of B-cell tumours, in which neoplastic cells display a CD20 molecule on their surface.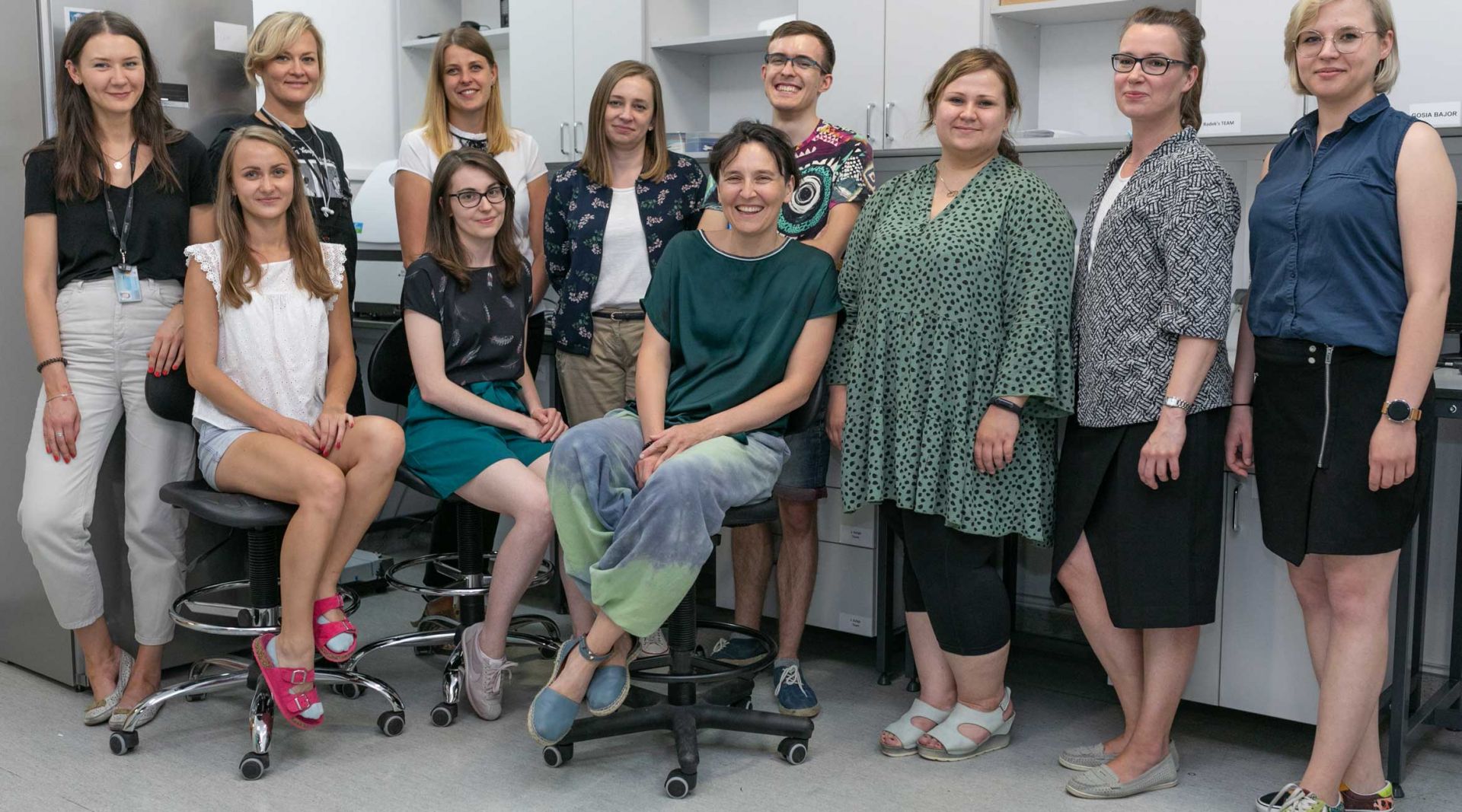 Dr hab. Magdalena Winiarska with her team. Standing from left: Katsiaryna Marhelava, Dr Iwona Baranowska, Dr Małgorzata Bajor, Kuba Retecki, Dr Marta Kłopotowska, Dr Agnieszka Graczyk-Jarzynka, Dr Klaudyna Fidyt. Sitting from left: Dr Zofia Pilch, Marta Krawczyk, Dr hab. Magdalena Winiarska, Aleksandra Kusowska. My research has focused primarily on the clinically significant processes that regulate the anti-tumour effects of anti-CD20 antibodies in mechanisms associated with the activation of complement-dependent cytotoxicity and antibody-dependent cellular cytotoxicity. Within the framework of the project funded under OPUS 4, I looked for new pathways participating in the regulation of the quantity of CD20 molecules in neoplastic cells. In recent years, we have seen the arrival of many drugs with important anti-cancer benefits, in the form of small-molecule inhibitors of kinases that take part in BCR signalling. BCR activation plays a very important role in normal B-cell growth and proliferation. Our research revealed that the inhibition of the BCR signalling pathway reduces the amount of CD20 on the surface of tumour cells and thus impairs the action of anti-CD20 antibodies. We demonstrated the existence of new BCR-associated pathways that regulate CD20 concentration in cancer cells. Our findings were published in two prestigious journals: "Leukemia" and "mAbs", delivering clear evidence to suggest that a combined therapy with BCR signalling inhibitors and anti-CD20 antibodies should be used with great skill and caution in patients with B-cell cancers. In clinical trials currently underway, anti-CD20 antibodies, rituximab and ofatumubab, are being tested together with BCR signalling inhibitors in patients with blood cancers. It seems that because of the negative impact of these inhibitors on CD20 concentration in cancer cells and their blocking effect on NK cell activity, drugs from this group should be administered in an appropriate sequence to guarantee the best therapeutic results. It is worth emphasizing that our findings, the first to be published in prestigious oncological journals, have since been confirmed by other research teams, as well as several clinical trials. Importantly, they have also contributed to a search for new, more selective BCR pathway inhibitors.
The project in question was my first funded by the NCN. I carried it out in tandem with a wonderful and brilliant PhD student, Kamil Bojarczuk, who unfortunately passed away in 2020. Together with Kamil, based on this first project, we created a vibrant team that has since continued successful immunotherapy research. For a while now, we have studied the modification of NK cells and T cells by chimeric antigen receptors (CARs). We are interested both in finding new treatment goals and optimizing CAR coding vectors to enable the selective action of effector cells in the tumour environment. The research is partially funded by the European Research Council within the framework of an ERC Starting Grant.
Project title : Influence of the B cell receptor (BCR) signaling pathways on CD20 levels in tumor cells and antitumor activity of anti-CD20 monclonal antibodies
Dr hab. Magdalena Winiarska
Kierownik - dodatkowe informacje
I started independent research in 2010, heading a small research team at the Department of Immunology of the Medical University of Warsaw. Since then, my research has been funded under eight grants in which I have served as a principal investigator. My current team consists of seven postdoctoral fellows, one technician, three PhD candidates, and four students. I also cooperate with other centres, both in Poland and beyond. An important part of my mission is to promote young researchers – students, PhD candidates and young postdoctoral fellows.